I have recently discovered a new genre of books and needless to say it has been quite devastating on my bank account, not to mention my already dwindling degree of social interaction. The genre is that of historical romance, particularly of the regency variety.
A while back, I found myself to have thoroughly enjoyed Newt's Emerald by Garth Nix, Lady Helen and the Dark Days Club by Alison Goodman and Illusions of Fate by Kierstin White, all YA reads set in alternate regency era. And so a curiosity arose to delve further into the era. I ordered and read A Little Scandal by Meg Cabot writing as Patricia Cabot thinking what better way to embark onto an uncharted genre of books than with an author I feel completely at home with.
And I fear I have been unable to stop since, given how highly populated the genre is. So here is a selection of 5 regency romances I have read from the dozens since the beginning of the year.
1 Only a Kiss by Mary Balogh
I have read half a dozen of Balogh's works in quick succession since discovering I enjoyed this genre but Only a Kiss has to be my utmost favourite. It is the second last instalment of her Survivor's Club Series which explores the lives of seven friends, six gentlemen and a lady, who are all recovering from the aftermath of the Napoleonic wars.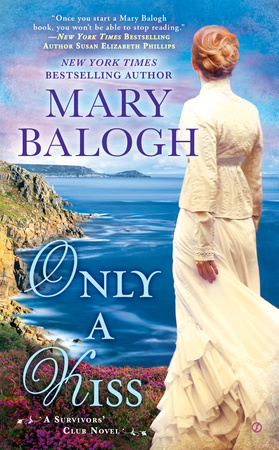 Only a Kiss follows Lady Imogen Barclay who has confined herself to a life of loneliness in Cornwell after witnessing the death of the husband during the war. She desperately hopes that the inheritor of her husband's estate ignores the charming seaside property so she can continue to live there in fragile peace. However, Percival (Perce) Hayes, Earl of Hardford decides to visit his estate on a whim, having grown bored of his charmed existence as a gentleman of leisure in London. Their unexpected encounter eventually develops into a passion that both Imogen and Perce thought they were incapable of feeling.
I think what I most liked about Only a Kiss is that the roles of the hero and heroine are somewhat reversed. Imogen takes on the role of the quintessential brooding (or rather grieving) lady of the manor with Perce playing the chalk to her cheese, who turns her world up side down. He was quite adorable with his severe case of foot-in-mouth syndrome and I found myself visibly shocked at some of his interactions with Imogen while fighting back tears or suppressing giggles at others. I adore cameos from the remaining members of the club throughout the series but I particularly enjoyed their appearance in this instance because it was intriguing to see the men interact with Perce and his impression of them. It was quite brief though and I would have loved an extended sequence in this regard.
There were some truly heart wrenching moments, particularly when Imogen recounts her painful experiences and the reader discovers the extent of her grief. Perce's moments of reflection on his otherwise charmed life and lack of purpose, in reference to, if not in stark contrast to, what he learns about Imogen was equally poignant.
The light overarching suspense was also well done making the read a wholesome experience.
2 How to Catch an Heiress by Julia Quinn
Julia Quinn is delightfully hilarious and the few books of hers that I have read thus far are easy, heart warming reads exuding all the comforts of classic romantic comedies.
In To Catch an Heiress, when the heroine, Caroline Trent, is mistakenly kidnapped by Blake Ravenscroft, she doesn't even try to elude the agent of the crown because she is running from an unwanted marriage.
When the truth of her identity comes out,  Blake reluctantly agrees to allow her to stay in his manor until she turns 21 years of age and comes into her inheritance, freeing her from the clutches of her unsavoury guardians.
Manor fever ensues as the mismatched couple attempt to cohabit, all the while not realizing that they may be destined for love.
This was a light and breezy read that had me in stitches more often than not. Caroline was this wonderfully weird and crazy heroine who did not allow her painful childhood to dampen her shine and Blake was the epitome of the hardened tall, dark and scary lord of the manor. However, it was the ensemble of the supporting cast that made this read so enjoyable, particularly Blake's bold staff with their ridiculous fondness for Caroline and Blake's friend and colleague James.
The suspense is all very predictable and hardly thrilling with a convenient resolution. That being said, the journey is such an enjoyable and fun one, that the former drawbacks do not matter as much.
3 Ravished by Amanda Quick
As an avid fan of fairy tale retellings and adaptations, imagine my surprise when I found that regency romances are knee deep in it!
Quick's Ravished is not a strict retelling but rather a loose interpretation of the timeless tale of Beauty and the Beast.
Our heroine, Harriet needs a powerful and clever man to rid her beloved seaside caves of smugglers so she can attend to uncovering the hidden fossils within in peace. Viscount St Justin, owner of said caves, dubbed the Beast of Blackthorne Hall, answers her summons. While the mismatched pair negotiate their way through polite society, family expectations and organised crime, they also find their way into each others' hearts.
This one, like How to Catch and Heiress, was also quite light and fun but the mystery was more developed and tied into other aspects of the narrative making the experience multi-dimensional.
Harriet is an adorkable and obsessive fossil collector and Gideon is this scarred (literally and figuratively) brooding pseudo outcast. Theirs is an odd and convenient partnership but adorable beyond measure. They were deeply communicative despite their warring personalities, there were no no pesky misunderstandings or presumptions to unnecessarily complicate the narrative.
Harriet and Gideon made a great team and the bond they shared was fiercely strong. They stood side by side and were supportive and defensive of each other while also calling each other out on their BS when the need arose.
I really enjoyed their journey, from their hilarious meet cute to their swoon worthy happily ever after.
4  A Little Scandal by Patricia Cabot
It is only fair to include A Little Scandal to this collection what with it being the gateway drug to this newly acquired addiction.
Cabot is one of my all time favourites and I have loved her entire body of work to date so it was hardly surprisingly I loved this one. Only Cabot can ensure I thoroughly enjoy a story about a 37 year old single father (Burke) of a boy-crazed teenaged girl who, against all odds, falls in love with the governess (Kate) he hires to control said daughter. I say this because my literary protagonists of late have not be over 20 years of age.
Burke was oblivious to what he wanted for himself and it was a little infuriating at times. He was clearly tired of his casual flings and wanted a quiet and static existence yet he had a funny way of dealing with it.
Kate was a plucky one and I loved her sense of self respect. She did not allow her dire circumstances or impulses to welcome disrespect or to trivialise her feelings. My hero!
It was my first brush with the regency era and I was quite appalled with the double standards aristocratic men had with respect to women during that time. It was completely fine to offer/engage in a no strings attached relationship with what they considered the servant class or actresses/performers but it was in bad taste to do the same with respect to women who were members of the aristocracy. As if non-aristocratic women did not have the same feelings and therefore did not warrant serious proposals of commitment.
Other than that little critique which jumps up now and again in other books of the genre, this was a good read which opened up a world of other good reads.
5 The Rogue Not Taken by Sarah Maclean
The Rogue Not Taken opens with Sophie Talbot finally having had enough of London's aristocracy and its tabloid culture and stowing away on Kingscote's (King) carriage to escape the chaos and return to her beloved childhood home in the country. When King discovers Sophie, he is livid, thinking she plans to trap him into marriage like her notorious sisters.  She is equally livid of at this presumption. She wouldn't have him if he were the last man on earth. It is War. Or is it more? Opposites attract after all.
This was a great read. The dialogue between Sophie and King was crackling! I love a good road trip and this was a thrilling, hilarious and adventurous one with curricle racing, highwaymen, gunshot wounds, pickpockets, handsome doctors, Scottish flirts, labyrinths and wonderfully weird family members.
That being said, it became quite infuriatingly melodramatic towards the end with King insisting he felt one way while behaving otherwise. If it quacks like a duck, you get the idea. But King did not! Which in turn led me to be infuriated with Sophie, whom I liked up until then, because she basically became a deity of self-pity and self-sacrifice from thereon.
However, it somewhat redeems itself before its close and alls well that ends well.
In conclusion, guilty pleasure does not get better than regency romances especially when it features immense wit, charm and grace and is not just a sorry excuse for a bodice-ripper. The above authors definitely left their marks on me and I cannot wait to delve further into their works. Balogh is easily the best of the lot as I have found her characters to be wonderfully complex and multi-layered and her plots rather unique. Quinn excels when it comes to humor while Quick's originality amidst the stereotypical is compelling. I have just discovered Maclean and I certainly love her spunky take on the genre. In any event, I am having the time of my life working through the genre so stay tuned.